biOrb EARTH - as beautiful as its inhabitants, as stylish as your home
Bring their wonderful world into yours
Whether you're a herpetologist looking for the very best environment for your animals…
…are new to the pleasure of keeping reptiles or amphibians and want a spectacular centrepiece or exquisite feature…
…the stylish biOrb EARTH is the perfect addition for any room in your home.
And that's even before you look inside to be transported to join your animals in their natural environment.
Here's how you set up the biOrb EARTH
The humidity your animal expects… …all meticulously monitored and regulated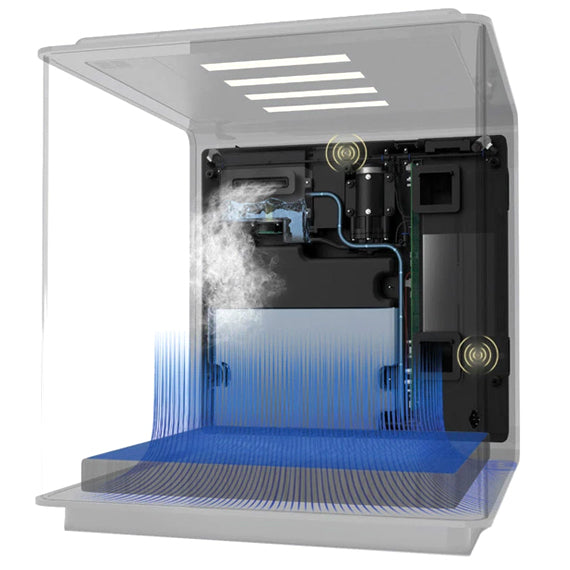 Ultrasonic mister, Capillary matting…
Maintaining the humidity in a traditional vivarium is either performed through manual misting - a regular chore. Or by 'bolting on' a humidifier or external misting System - more unattractive components to control and try to hide. biOrb EARTH's ultrasonic mister is built in with its own dedicated fan and tank hidden at the rear. What's more, there are also twin integrated, directional nozzles to create rain inside your biOrb EARTH. This combination provides the most realistic humidity and precipitation of any vivarium available.
Twin directional rain nozzles
biOrb EARTH constantly replicates the natural world with a range of temperatures within the tank. Temperature and humidity levels your animals require are adjusted by the use of a sensor. At the base of the biOrb EARTH is a free draining support layer with capillary matting. This ensures the correct level of moisture for your plants and a bio-active substrate - aiding you to create your own special piece of the natural world.
The simple way to a stunning world inside your biOrb EARTH
The animals you keep inside your biOrb EARTH are beautiful. But your tank needs shape and form to match the animals' natural environment and to really come alive. To help you biOrb have a range of sculptures and accessories.